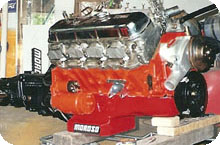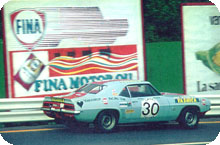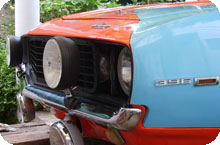 A year and a half later… On a Monday when strong rains had fallen the entire week end long and there even had been floods all over the region.
It was a time when I worked with "Ducati". During lunch break, I decided to drive up 916 to check whether anything severe happened to the Camaro, though I had been informed on the weather situation over there.
According to the delay it was quickly done on the road as well as on spot. Bad luck… the engine which had been removed in 1975 to be controlled, was in a corner of the shed half dismantled.
Infiltrated water from the ceiling had dropped on the cylinder heads and inside the block. I noticed it was not the owner's first worries. So I told him that it was better for me to take all mechanic pieces with me to put them in a dry place, against half the amount agreed for.
So I did it a few days later.
The star is in agreement one more time to permit the following, 2 day after I have the opportunity to get back a van for 2 hours. Just the time for me to do something… this challenge electrified me "the rods gone be red hot" after 18 month of endless waiting, the action fall right. This can by do otherwise! It's necessary some time to follow the forces that surround us. After done the first initial van job like spider pig…
I put the distributor point in fire in a 20km run to the Grasse rendezvous. At 4pm just in time ….load parts engine, gearbox set of wheels and many other parts that full of the rear of the van.
Hello, the cash! That good ? Ok, see you soon! Go back to home like a jet van and throw away the entire sheet in my garage alone.
At this time I can said you that a 396 weight a like a bear full of giant burger but, with a good constitution and lot of nerves that help! And finally just with 1 minute latless …van restitution.
I love when a mission this unrolls without tears!
A year later… After all sorts of incidents the owner's wife, who I met for the first time gave me the registration document, together with the car against the remittance.
As the Camaro was a reminder of her dead father I promised to come back and see her when the car would be restored.