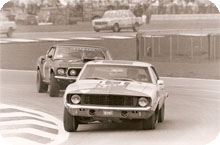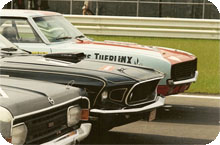 Then it was put into sale as early as April 1974 by Greder for the equivalent amount of FF45.000. To make a comparison, at the same period, Ferraris 330 and Porsches 911 could be found at FF25.000 and FF12.000 or Alpine Gr4 from factory at FF40.000.
Then the car was bought by Paul Quarin in 1975, because he was willing to participate into races. But the car had several problems and it was put in a warehouse; it didn't run any more and was kept sleeping until I bought it.
At this stage…it's interesting to make parallels between their family story and mine.
- The Tuerlinx and Ravenels have been racing with Opel Commodore in Spa and Le Mans respectively. At this period, my parents also had a Commodore and I had an Opel Manta, as Tuerlinx as well as a Pontiac Trans Am.
- So, we all have owned this Camaro model, two or three years the same age, included Paul Quarin.
- Another interesting thing, is that after so many incidents and so many "foot through the floor session" made mainly by Tuerlinx, the car had remained as it was originally, without being altered except for some replacements made on the right wing. Some wheels studs had also been replaced because they didn't resist strain (see picture of Saint Gervais race). Moreover I immediately noticed several sets of new studs among all the pieces.

Before starting telling you about the details of its rebirth, I've been looking for its history.